It is with great pleasure and enthusiasm that we share with you our 2019 Annual Report. In a world made anew by the challenges of the COVID-19 pandemic and corresponding economic impacts, we are grateful for this moment to pause and reflect on our 2019 accomplishments and to express our deep appreciation for all of our supporters.
We are proud of the work that we accomplished last year, including working directly with 5,703 individuals, providing legal services in 65 communities, and training 58 Community Advocates, among many more achievements. Please join us in celebrating the impact of local women leaders in ensuring safe, strong, and resilient communities: for preventing violence against women and girls, as well as responding to crises and challenges as they emerge.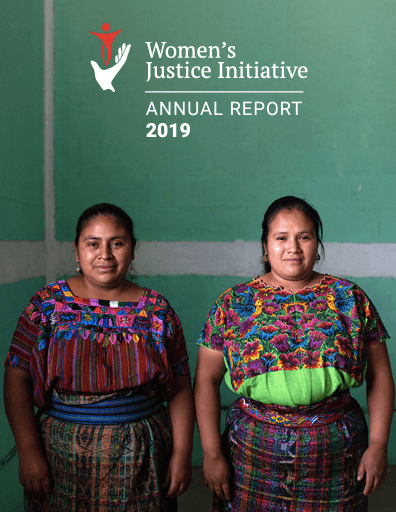 You can read the full report here.
If you are interested in discussing our work in more detail, please do not hesitate to reach out. We hope you will continue to join us in supporting and protecting the rights of women and girls in Guatemala. 
A New Addition to the WJI Team
We are excited to introduce a new member to the WJI team this month: Jessica Pasquarello. Jessica is a recent graduate of the University of Georgia, where she received a Master of Arts in Political Science and International Affairs. As a recipient of the Princeton in Latin America Fellowship, Jessica will be working on communications and resource development at WJI for the next year. We are so happy to have her on board!