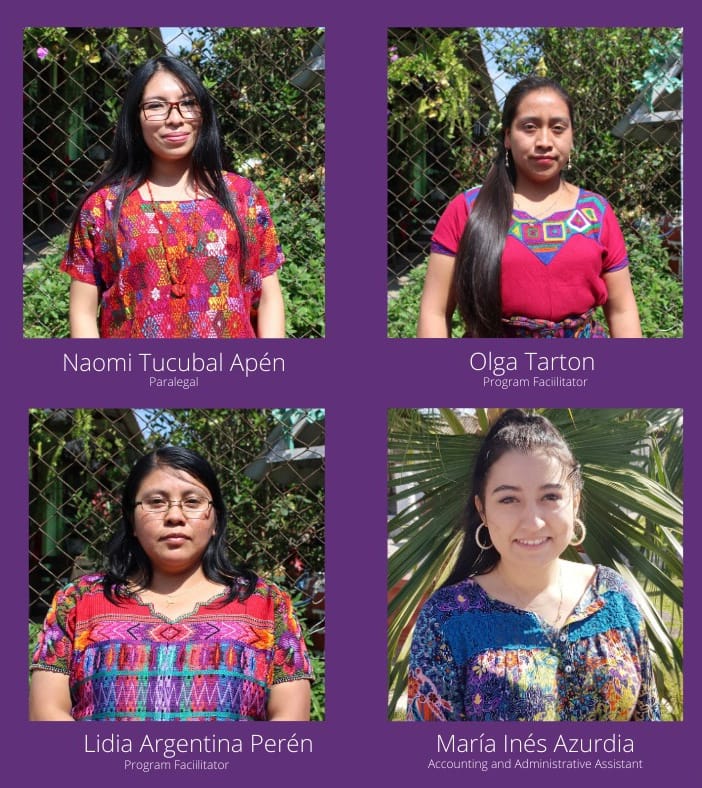 As WJI expands into new communities, our team has grown as well. We're excited to introduce Naomi Tucubal Apén, a Paralegal, as well as Olga Tarton and Lidia Argentina Perén, Program Assistants who will be working in San Juan Comalapa. Additionally, we're excited to welcome María Ines Azurdia, who will serve as an Accounting and Administrative Assistant. Our new team members shared their perspectives and experiences with us here.
Tell us a little bit about your experience.
Naomi: I studied Judicial and Social Sciences at Mariano Gálvez University in Guatemala City. I've worked in both the judicial branch of government and at a law firm, where I served as a paralegal.
Olga: I've worked with organizations that fight for women's rights and have been working on the ground with volunteers in my community.
Lidia: I have been an activist in my community and worked with various groups of women, including teaching artesanal skills so that women could have an income of their own and not need to depend on anyone else. Currently, I am in the last year of my Clinical Psychology degree program.
María: I studied Business Administration for five years and also served as an assistant for my father's business.
What is your role with WJI?
Naomi: I am the Paralegal for WJI's Legal Services Program in the municipality of San Juan Comalapa. I will offer legal advice to women, travel to their communities so that they do not need to come to our office, file their lawsuits, attend hearings, and work on their cases, among other responsibilities.
Olga: I will be providing workshops with the Women's Rights Education Program on the ground in rural communities, where there is little knowledge of women's rights. We hope to bring services to the women of this area and empower them.
Lidia: As a Program Assistant on the Women's Rights Education Program, I will also provide legal literacy workshops so that all women know their rights.
María: My work includes everything that has to do with accounting and administration. I will be working from WJI's office in Antigua to offer help wherever support is needed.
Why did you want to work with WJI and why do you think this work is important?
Naomi: The majority of women we work with do not know their rights and where they can turn for help. WJI's programs are essential, as they bring knowledge, training, advice, and solutions so that women's rights are respected and so that women can access justice. I wanted to be part of this group of women that support and help other women.
Olga: WJI's work is necessary to improve the lives of women in rural communities. WJI's programs allow for the education and empowerment of women so that gender-based violence is no longer normalized. WJI's programs provide a comprehensive approach to to the eradication of violence against women.
Lidia: I have a lot of empathy for women that have been abused physically, psychologically, economically and sexually but have not broken their silence because they do not know that violence against women is a crime. If we want to eradicate violence against women it is important that all women know their rights, especially in small villages where many girls have become vulnerable to violence.
María: I wanted to work with WJI because the organization's goal to help women is beautiful. I know that I will be making a difference in my work.
Welcome, ladies!