WJI's Superstars!
Thanks to your generous donations, we have now raised over $18,000 for WJI's Educate2Empower campaign!  We are so grateful to you and we still need your help to reach our $25,000 goal! Please consider doubling your impact by donating TODAY!
Your contributions will directly support WJI's fearless Community Advocates, the superstars of our team. Community Advocates are local woman who participate in WJI's two-year training program that combines comprehensive human rights education with leadership development. Community Advocates ensure the sustainability of WJI's work and are leaders, women's rights educators, and mentors to their peers. To date, WJI has trained 44 local women who multiply WJI's impact by promoting gender equality in their communities and by supporting women seeking legal services.
We are so impressed by the hard work and positive spirits of our Community Advocates!  Please consider donating today to fund education and leadership workshops for WJI's amazing Advocates, which will provide them with the tools to empower their families and communities, impacting countless women and girls.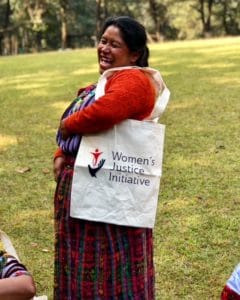 Did you miss WJI's new film that we debuted last week?  Check out the latest video of WJI's meaningful work:
You can support WJI's Educate2Empower campaign now by providing a tax-deductible donation on our website at https://womens-justice.org/donate/.  Let's work together to empower Guatemalan women and girls to promote gender equality and live free from violence.  Thank you!