By: Women's Justice Initiative ||
November 2018: Giving Tuesday
GIVING TUESDAY
Today is Giving Tuesday and we need your help!  WJI is launching our Advocate for Change campaign with the ambitious goal of raising $80,000 by the end of the year. Thanks to the generosity of a WJI donor, $10,000 in contributions will be matched TODAY. This means that your impact on Giving Tuesday will be enormous!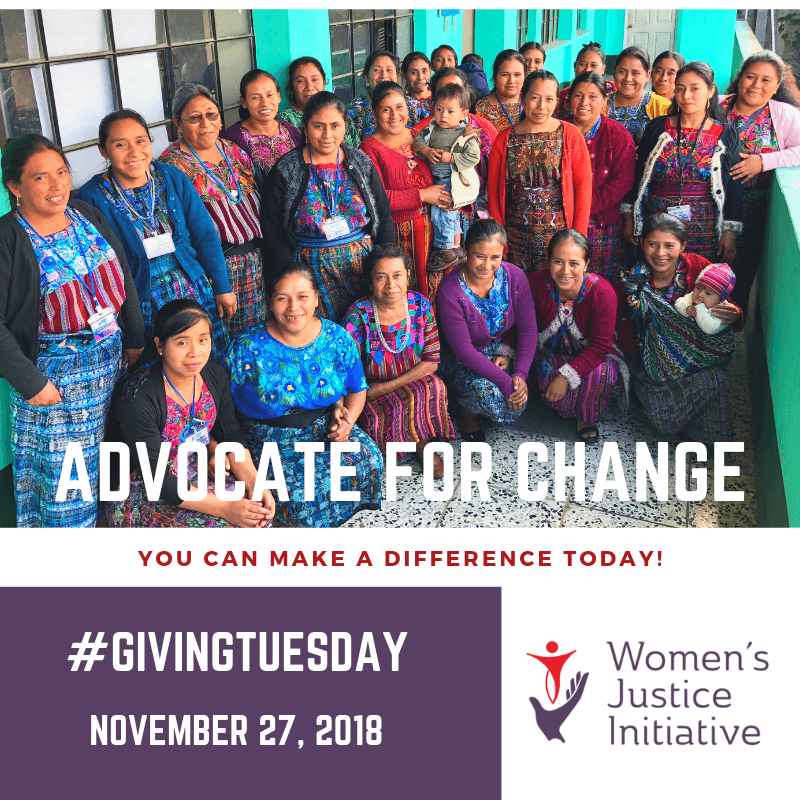 We are advocating for change in rural, indigenous communities to ensure that vulnerable women and girls have access to justice and equal rights. WJI's work would not be possible without our fearless Community Advocates, local women who undergo intensive leadership development and human rights training. The Advocates' transformation into women's rights educators, local leaders, and mentors in their communities is changing the lives of thousands of women and girls. Make a donation on Giving Tuesday that really matters and join us as we advocate for a more equitable world for Guatemalan women and girls!
On Sunday, we commemorated International Day for the Elimination of Violence Against Women. One in three women experiences violence in her lifetime, across all social status, class, race, or country. This is one too many. We stand together with survivors and fellow grassroots activists as we work to put an end to violence against women and girls.
You can support WJI by providing a tax-deductible donation on our website here or by mail with a check sent to:
Women's Justice Initiative
PO Box 21540
New York, NY 10087-1540
We hope you will consider supporting us as we continue to grow, sparking lasting change in the lives of women, girls, and their families!  Donate today!