YEAR END RESULTS
Happy Holidays from the WJI team! Thanks to your overwhelming generosity over the past weeks, our EDUCATE2EMPOWER campaign is an incredible success. But there is still time to make an impact this year with a donation that will provide Guatemalan women and girls with the tools to empower their families and communities. We are looking to break fundraising records and a generous donor is going to match a further $5,000 during the last days of the campaign! Double your impact by donating TODAY!
As we enter the new year with ambitious plans for WJI, we also want to look back at our incredible 2017 results and share WJI's  impact with you: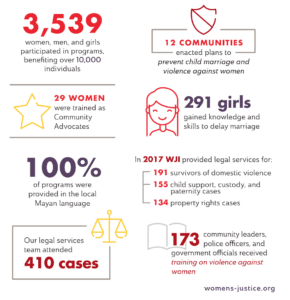 WJI's programs are changing lives and impacting countless families and communities! Your donations will support WJI in educating hundreds of girls about their rights, the importance of delaying marriage, and achieving their personal goals.  Furthermore, your contributions will help us to bring legal rights education and legal support to thousands more women, helping to prevent the cycle of violence and to empower women in their communities.
Our work would not be possible without you.  Thank you.
Join us as we build a more equitable world for Guatemalan women and girls! You can support WJI by providing a tax-deductible donation on our website at https://womens-justice.org/donate/ or by mail with a check sent to:
Women's Justice Initiative
PO Box 21540
New York, NY 10087-1540
We are ending the year and the EDUCATE2EMPOWER campaign with great success. We hope you will consider supporting us as we continue to grow, sparking lasting change in the lives of women, girls, and their families! Your donation is matched when you donate today!
Thank You and Happy New Year!