Legal Empowerment in Guatemala
WJI was recently selected as a finalist for the Grassroots Justice Prize, a biennial award that recognizes grassroots organizations and institutions, large and small, that are working to put the power of law in people's hands. Although WJI did not win the prize, we were one of ten organizations, and one of just two organizations representing Latin America, that was recognized for its capacity to help people to know, use, or shape the law to advance justice in their country.
As a testament to the incredible work of WJI to advance justice for indigenous women in Guatemala, we sat down with Viviana Patal, WJI's Attorney and Legal Services Program Coordinator, to talk about what motivates her. Originally from Patzun, Viviana has been with WJI since 2014, and personally understands the situation of the women and families whom she supports on a daily basis. Viviana faced, and continues to face, intense discrimination as an indigenous female attorney, and she has always fought for respect and dignity for herself and for all women.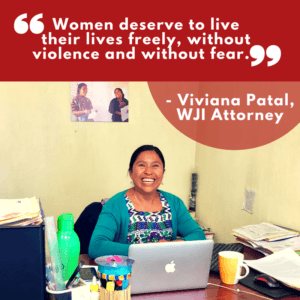 "To achieve justice in Guatemala for indigenous women, the law is a powerful tool through which we women should defend ourselves, assert our human rights, and contribute to our country. Through our programs, WJI is planting a seed for change that will grow and impact the lives of our daughters and granddaughters."
Viviana and the Legal Services team work to prevent gender-based violence and provide access to justice directly to women in need by bringing legal services to their communities and by providing bilingual Mayan-Spanish resources. WJI's Legal Services Program has grown immensely over the past two years.  Between 2016 and 2017, the number of cases WJI received nearly doubled, with 288 cases in 2016 and 495 cases in 2017.
Your contributions will support Viviana and WJI continue to provide legal aid to hundreds of women in rural communities today.
On behalf of Viviana and the WJI team, thank you for supporting us to empower Mayan women and girls to break the cycle of violence and inequality in rural Guatemala.