We have exciting news to share with you! WJI was recently awarded a three-year grant from the Tinker Foundation, which will allow us to expand into a third municipality, San Juan Comalapa. With their generous support, we will be able to continue our work assisting indigenous women to assert their rights and to live free from violence, reaching 12 new communities. Over the three years of this grant, we will train more women as leaders, test new rights education methods, and improve our monitoring and evaluation efforts to make our programs as sustainable as possible.

M&E Officer Interview: Andrea Tock
As WJI continues to grow and adapt to the added challenges of navigating a global pandemic, our work to track our progress and measure our impact is even more critical. We interviewed our fantastic Monitoring and Evaluation Officer, Andrea Tock, to hear more about the importance of strengthening our evaluation systems.
What is Monitoring and Evaluation (M&E)?
Monitoring and evaluation combines data collection and analysis to assess the impact of our programs and the ways in which these can be improved. According to our beneficiaries and staff we know that WJI's work is meaningful and beneficial for indigenous rural communities. M&E is not only used to confirm this on a larger scale, but also to inform every new step that we take in order to provide useful and meaningful services to women in rural communities.
Why is M&E important for this new project?
M&E is the best way to learn how WJI can become more sustainable. For the Tinker grant and the expansion to a new municipality, we will rigorously test innovations in our programs and share the findings with key stakeholders at the local, national, and international levels.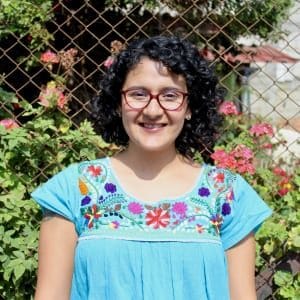 Andrea was born and raised in Guatemala City. She holds a B.A in Political Science from Universidad Rafael Landívar and a Masters in Gender Studies from Lund University in Sweden. She has experience in civil society organizations as a researcher, consultant and educator in themes such as anti-racist education, sexual and reproductive rights advocacy, and social inclusion of rural youth. Look out for the full interview with Andrea, coming soon.
WJI is proud to have Andrea on our team!