Dear Friends,
As an Update from the Field, I am pleased to highlight WJI's commitment to the next generation of Guatemalan women. WJI's work with adolescent girls and their mothers has had a significant impact on these young women's futures. In 2015, WJI will launch an Adolescent Girls Program that will focus specifically on meeting the needs of girls in the communities where we work.
Thank you for your continuing support of WJI's work to empower Mayan women to break the cycle of violence and inequality in rural Guatemala. Our work would not be possible without you.
Best wishes,
Kate Flatley
Executive Director
Women's Justice Initiative
Empowering the Next Generation of Guatemalan Women
When WJI began its work in 2011, our programs focused exclusively on adult women. However, we quickly learned that there were many adolescent girls who were interested in our programs and needed our help. In response, WJI expanded our program to reach girls as young as 13 years old.
Many of the adolescent girls involved in our programs are already married and have children. In Guatemala, 54% of indigenous women are mothers before the age of 20. At 12-15 years old, families often begin to see girls as an economic burden, and parents pressure them to get married and leave the home. WJI is working to change these attitudes and combat conditions which result in lost opportunities for girls, child marriages, and early pregnancies.
"I was a mom at thirteen. If I had known more at the time, I wouldn't have had a baby so young. I have 10 children and I am only 35 years old, and this is because I didn't know any different…The good thing is my daughters are in WJI's programs and I talk to them about what we learn, so that they understand their rights and know they have the right to decide about their own lives and their futures." Irma, WJI participant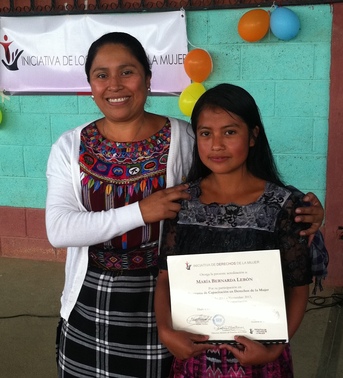 Bernardina, a young WJI program participant, pictured with WJI's Attorney, Viviana Patal.
Most of our adolescent participants are no longer in school because their parents cannot afford to pay the costs associated with sending them. Many parents feel that it is a better investment to send their sons to school than to send their daughters, because they believe that sons are more likely to contribute an income to the household when they are older.
"My husband didn't want to let my daughter continue going to school. Because of what I learned from WJI, I stood up for my daughter and convinced him to let her continue studying. I know I did the right thing by giving her the opportunity to broaden her horizons and making sure we treat our daughters and sons equally." Martina, WJI Participant
Through participation in WJI's programs, adolescent girls and their mothers are transforming their lives. Families are learning the importance, and economic benefit, of investing in their girls and providing them with the opportunity to achieve their goals. Simultaneously, girls are gaining the self-esteem, knowledge, and tools they need to define their futures.
"The workshops have helped me a lot because I don't want to repeat the same mistakes that my mom made and become a mother at thirteen. I want to keep going to school. And I want to wait to have a baby until I am ready." Priscila, Irma's daughter and WJI Participant
In 2015, WJI will launch an Adolescent Girls Program to better respond to the challenges facing our younger participants. WJI is partnering with the Population Council's Poverty, Gender, and Youth Program to develop and implement our new program. The Population Council has over ten years of experience working with Mayan girls in rural Guatemala. With a program specifically tailored to the needs of adolescent girls and their families, WJI will ensure that they have the necessary support and tools to keep them in school, achieve their goals, and avoid child marriage and early pregnancy.