Dear Friends,
As an Update from the Field, I am pleased to profile one of WJI's staff members, Elvia Raquec. WJI is very fortunate to have a talented staff of Mayan women who are committed to fighting for the rights of women and girls in a challenging environment. Many of our staff members have overcome significant obstacles to achieve their professional and personal goals. Elvia's experience highlights the struggle that many young Mayan women face and the possibilities that exist to surmount these challenges.
Thank you for your continuing support of WJI's work to empower Mayan women to break the cycle of violence and inequality in rural Guatemala. Our work would not be possible without you.
Best wishes,
Kate Flatley
Executive Director
Women's Justice Initiative
WJI Staff Profile: Elvia Raquec
Elvia Raquec, WJI's Program Coordinator, joined the organization at its inception in Septembe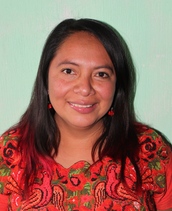 r 2011. Elvia has played a key role in the organization's development and success. Elvia joined WJI after working for a number of nonprofit organizations, including the Population Council, an international organization that works in Guatemala to empower rural Mayan girls. Elvia's personal story illustrates many of the challenges facing young Mayan girls and women in Guatemala.
"I am the oldest of five siblings, two sisters and two brothers. My father is a field laborer and my mother is a housewife. Since I was 8 years old, I woke up at 4:00 am to work in the field with my father and afterward I would help my mom clean the house and cook before I left for school. When I turned 12 years old, my father decided to take me out of school. He said that I didn't need to continue with my studies because I knew how to read and write and I was a girl, and girls were only meant to get married and have children.
I always longed to have a different life from that of my parents. I insisted that I wanted to continue going to school and that my plans were not to get married. I wanted to be an example in my community that women, and not just men, could become professionals. After two years of perseverance, I convinced my father and he allowed me to go back to school.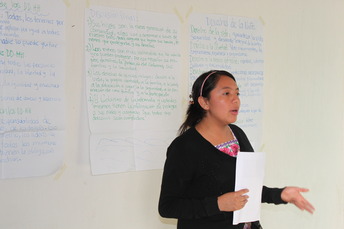 Elvia teaching a Children's Rights Workshop as part of the Women's Rights Education Program.
When I graduated from high school, my father was very proud of me for achieving my goal and he began to understand the importance of educating girls. After that, he allowed my two sisters to continue with their studies and graduate from high school.
I wanted to continue my studies and go to university, but my family could not afford it. I needed to work so that I could help support them. Five years later, I found a scholarship to pay for my university studies and this past December, I graduated from university with a degree in Social Work. I am the first person, man or woman, in my town to graduate from college. My family is very proud of me and what I have accomplished.
I have been working for WJI since 2011. I work with women who come from similar backgrounds to me. I love my work because I get to teach women about their rights and educate them on issues that affect many of them and their families. Over time our participants begin to change their attitudes and feel empowered to defend and assert their rights as women. Working directly with vulnerable women and seeing their transformation through our programs has been an incredible experience for me, both professionally and personally."
Through her own determination, Elvia has exceeded her personal goals and achieved many of the dreams she once felt were unattainable. Elvia serves as a powerful role model, not only for her family and her town, but also for the women who participate in WJI's programs.