Dear Friends,
I am pleased to share with you the Women's Justice Initiative's Summer 2013 Newsletter.
WJI has been very busy over the past few months as we continue to develop and grow our programs for Mayan women in rural Guatemala. We have expanded our work to four new communities, doubling the number of women participating in our programs. Additionally, WJI's staff has recently grown to include an attorney, who runs our Legal Services Program, and two additional facilitators for our Women's Rights Education Program.
We invite you to read about our work and the impact it has had on the lives of the women we serve.
Thank you for your ongoing support.
Best wishes,
Kate Flatley
Executive Director
WJI Expands its Coverage to Nine Communities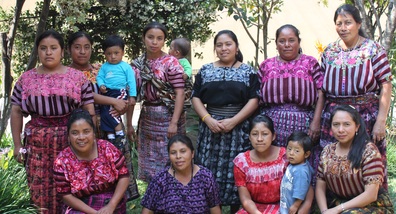 Less than two years ago, WJI launched its program in one community with fifteen participants. Today, WJI is proud to announce that we are working in nine communities with 290 women participating in our programs.
WJI recently expanded to four new communities in the municipality of Patzun, Guatemala. With this expansion, we have doubled the number of women in our programs. By implementing new strategies, such as home visits and community-wide meetings led by local leaders, WJI has raised awareness about our work and successfully recruited larger numbers of women to participate in our programs.
WJI's nine Community Advocates have played a critical role in our growth. After initially participating in our Women's Rights Education Program, WJI selected these women to serve in leadership positions in their communities, and they are currently participating in a twelve month program that trains them to be women's rights educators and mentors to their peers. The Advocates have been leading WJI's efforts to identify new participants in their communities, and their efforts have been very successful. In one community, over sixty women signed up to participate in our Women's Rights Education Program.
Local Voices: Estela Calcá
Estela Calcá is a Program Facilitator for WJI's Women's Rights Education Program. Estela is from El Llano, one of the communities where WJI works. Most of the women in Estela's extended family have participated in WJI's programs, and Estela often discusses the impact that WJI's work has had on her family.
Recently, she shared with us how WJI's work has benefited her mother-in-law and improved their relatio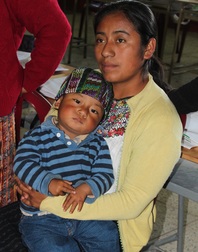 nship:
When I first started working at WJI, my mother-in-law made my life very difficult. She was not happy that I was working and leaving the house everyday. She would constantly complain to my husband that he should not allow me to work. She often told me that I was a bad wife and mother.
I noticed that things changed significantly when my mother-in-law began participating in WJI's Women's Rights Education Program. As she saw firsthand the work I was doing, her attitude completely changed. It is funny to me to see such a difference. In the mornings, she makes breakfast for me and heats the water for my shower, saying she doesn't want me to be late for work. She often asks me about my work and says she is proud of me.
My mother-in-law suffered from domestic violence for many years. Through WJI's program she began to value herself and to understand that she has rights. She has changed significantly since participating in the program and recently left her abusive partner. As she saw the impact that WJI had on her life and other women's lives in the community she began to respect and to support my work. This has had a tremendous impact on our relationship and my relationship with my husband.
WJI Opens an Office in Patzun

Staff members participate in a weekly planning meeting in the office. In May, WJI opened an office in Patzun, the nearest city to the ten rural communities where we work. The majority of WJI's beneficiaries travel to Patzun once a week to buy and sell goods in the market. Opening an office in Patzun allows WJI to better serve these women by providing them with a safe space outside their communities where they can seek legal assistance or other support.
WJI Welcomes Legal Interns
WJI is pleased to welcome two legal interns, Caitlin Eberhardt and Emily Soli, who have joined us for the summer. Caitlin joins us from the University of Virginia School of Law. Caitlin is developing a training module for WJI on Sexual and Reproductive Health and Family Planning. Caitlin's work with WJI is funded by the UVA Center for Global Health's Global Scholar Award.
Emily joins WJI from the University of California-Berkeley School of Law. Emily is researching different support and advocacy models that may benefit graduates of the Women's Rights Education Program. Emily received the Berkeley Law Public Interest Summer Fellowship to support her work with WJI.