Dear Friends,
Thank you for your continuing support for WJI. You are changing hundreds of women's lives in rural Guatemala by providing them with access to legal services and education opportunities. As an Update from the Field, I am pleased to share the story of Teresa, whose participation in WJI's Programs has been transformative for her and her family.
Thank you for empowering Mayan women to break the cycle of violence and inequality and ensure that they and other women and girls can determine their own futures. Our work would not be possible without your support.
Best wishes,
Kate Flatley
Executive Director
Women's Justice Initiative
Teresa's Story: From Victim to Community Leader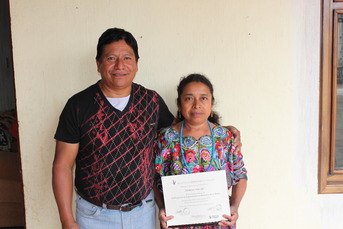 Teresa and Cristobal pictured in their home with Teresa's diploma.
"When I was young, I didn't realize how many difficult things I endured. I only went to school until second grade. My parents said that because they were sending my brothers to school, it was too expensive to send me, so I had to drop out. They didn't think that a girl was worth sending to school. I couldn't go to school, but I had to work to pay for my brothers' education. My mother had no patience and she hit me a lot. She and my father hit me all the time for no reason. They wouldn't feed me and made me do all the chores in the house. I married my husband when I was fifteen to escape the abuse."
When WJI began working in Teresa's community, she was afraid to participate in the women's rights course because she did not know how to read or write. "My husband encouraged me to participate in the training so I could learn new things. He asked me to share with him what I learned. On the days I had the program, my husband cooked dinner. When I got home from class, we would sit down and talk about what I learned."
At the beginning of the course, Teresa was shy and nervous to speak in front of the group. Through workshops on leadership, self-esteem, and communication, Teresa found her voice. She began to talk about the abuse she suffered and how it still affects her. As she shared her story with the other women, she felt stronger and more confident. By the end of the program, Teresa had transformed into a leader and mentor for the other participants. She was nominated by her peers to serve as WJI's Community Advocate, a demonstration of the trust and leadership she developed through the course.
"All my life I have felt pain and suffering, but through WJI, I started to feel better because I was able to speak with others about my problems. For the first time I understood that I had rights. As a child, I never knew that I had any rights. I thought that all the suffering was something normal that I had to endure. Through the classes, I learned that I have value."
Teresa's husband, Cristobal, described the changes he has seen, "WJI's program has really helped my wife. She is much happier and is more confident. She now goes with me to town meetings and shares her opinions. She talks to me and our children about what she has learned. WJI's work has helped our whole family."
Every woman who finishes WJI's rights education course receives a diploma. The diploma is very meaningful for women who have never gone to school or received any personal recognition. Teresa described to us what it meant to her, "Because we were never able to go to school, the diploma reminds us that we are capable, and even though we were never allowed to study, we now have 'a degree.' When they gave me my diploma, I called my children and told them to come home to see it, so that they could see that their mom wasn't ignorant."
Teresa is one of over 600 women participating in WJI's programs. Like Teresa, through WJI's work these women are learning for the first time that they have value and rights. They are redefining their futures and those of their daughters by raising their voices, educating their families and communities, and rejecting social norms that promote gender inequality and violence against women. Through your support, these women are changing their communities and impacting the lives of the next generation of women.