Dear Friends,
As an Update from the Field, I am pleased to share a report from a recent training the Women's Justice Initiative held with community leaders. The leaders with whom we met hold influential positions in their communities and have the ability to shift beliefs and practices around gender equality and violence against women. WJI is building strong working relationships with these leaders to ensure that women have powerful allies within their communities.
Thank you for your continuing support of WJI's work to empower Mayan women to break the cycle of violence and inequality in rural Guatemala. Our work would not be possible without your valuable support.
Best wishes,
Kate Flatley
Executive Director
Women's Justice Initiative
Developing Allies among Community Leaders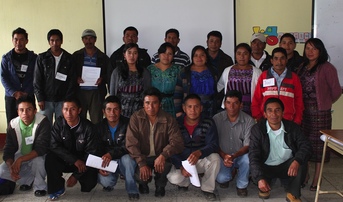 Community leaders with WJI staff after a training session.
In July, WJI launched a training program for community leaders, including mayors and town council members. In addition to deciding how resources are spent, these leaders often play an important role as traditional justice operators. Due to mistrust of and lack of access to the formal legal system, many community members rely on local leaders to resolve disputes or legal issues.
Unfortunately, women in WJI's partner communities are generally excluded from participating in community decision making and do not yet hold leadership positions. WJI's participants report that community leaders rarely take women's opinions into consideration. When they resolve disputes involving women, leaders often find in favor of men and tend to reinforce gender inequality.
Through its training program, WJI encourages leaders to promote female leadership and to be more responsive to women's needs in their communities. Many leaders have already begun to put into practice what they have learned.
Bernardo, the Mayor of Saquiya, is working with fellow community leaders to increase women's participation, "We held a community-wide meeting to share what we had learned during the training. In the meeting, we encouraged women to participate in community decisions and to become leaders, so that they can ensure women are not discriminated against. After WJI's training, we decided to hold the meeting, so that women know that they can participate in leadership roles in the community. We want them to know that the doors are open for them."
Eusebio, the President of the Town Council in Paraíso Chichoy, recently spoke at a WJI graduation and encouraged women to take on leadership roles in their community, "It is important that women participate in leadership positions. I have gone to meetings in other towns and I have seen women leaders who are doing an excellent job. I hope that after participating in this program you will become leaders in our community. My wife participated in WJI's training program. After the program, she wanted to be more involved in community decisions, and I encouraged her. She was just elected President of the Women's Committee."
By training leaders on protecting women's rights, promoting female leadership, and sensitizing them to the needs of women and girls in their communities, WJI is developing allies among decision makers and fostering new perspectives regarding cultural norms toward women.